Planning for your move is the most beneficial step in the moving process
4 Weeks
Take an inventory of your belongings. Determine what you can donate, dispose of, or sell. Arrange for a garage sale.
Determine the level of services, how much packing you are intending to do, and specifics of your move.
Contact your insurance company to determine your coverage for the move. Standard insurance-valuation is .60 cents per pound, per article, provided at no cost from your moving company.
Get an estimate for moving-- contact us today.
Obtain a change of address kit from the post office.
Notify family, friends, creditors, doctors, schools, newspapers etc… as well as change of address for your drivers' license.
Start a file for notes, plans, and various details of your move.
Start using any frozen or surplus food on hand.
If you elected to do your packing, get boxes, paper, tape and markers and any other needed supplies.
Select and contact your mover.
2 Weeks
If you're moving into or out of an apartment building, make parking arrangements for the truck, and reserve the elevator for moving day.
Send change of address cards to the post office, etc.
Start packing. Begin with things you won't need during the next few weeks.
Keep necessities separate such as personal items, paperwork etc., and keep cleaning supplies available.
Check garage, attic and storage areas for items that need to be packed.
Confirm change of address with the post office.
Movers will not transport flammables, propane tanks ,paint, ammunition, chemicals, etc.
Confirm date and other arrangements with mover.
Pack clothes and personal items. Leave out only the things you need up until the last minute.
Drain oil and gas from power equipment.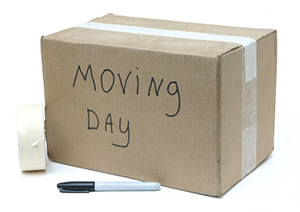 Moving Day
Make sure you or a representative is present to direct the movers.
After truck is loaded, make a final inspection with driver/foreman for any forgotten items.
Review the bill of lading very carefully, have payment ready.
Make sure the mover/driver has a contact phone number to reach you.
Lock all windows and doors and turn off any appliances left behind.
Arrive at new residence before movers.
Check for damaged items.
Carefully review the bill of lading. Make sure all boxes and furniture are accounted for before signing.
Packing information and helpful tips
Allow yourself plenty of time to pack and prepare for the move. Start packing at least 2 weeks before the move. Don't leave it to the last minute! You don't want to rush or incur additional expenses. Call for questions or concerns.
All loose belongings need to be boxed. This includes items like paintings, glass, TV's, lamps, and shelving from cabinets' as well as mattresses and box springs. They all need to be protected.
You can purchase boxes from us. We suggest that you call to schedule a pick up time for your boxes and other packing materials. It is important to know how many boxes your move will require. This will help you budget your time and money. Use the chart below to help you estimate, please determine quantities prior to calling so we can have them ready.
Type

# of people

# of boxes*

Studio

1

28-30

2

33-35

1 Bedroom Residence

1

35-38

2

45-48

2 Bedroom Residence

1

52-55

2

58-60

2 adults, 1 child

70-72

2 adults, 2 children

72-75

3 Bedroom Residence

2 adults, 2 children

100-102

4 Bedroom Residence

2 adults, 2 children

102-125
*This estimate is based on standard, average moves. Quantities can vary.
Other helpful hints
Tape each box when full. Tape both the bottom and top of every box by running two strips of tape along the side and one strip down the center.
Pack items in appropriate boxes. Use small boxes for heavier items - and larger boxes for light weight, bulky items.
Wrap small and/or fragile items individually to prevent loss or damage.
Stuff the top, bottom, and sides of each box with paper, this will cushion contents.
Fill boxes to the top. This prevents them from being crushed. Do not pack fragile items too tightly.
Label the boxes thoroughly with contents and room in which they belong. Labeling boxes correctly will save you from having to move them again, once you're in your new place.
Keep this in mind when packing these items!
Dishware and Glasses
Use double-corrugated dish boxes.
Cushion top, bottom and sides with paper.
Wrap each piece individually as much as possible, flatware may be bundled 2-3 pieces as well as less expensive glasses/cups, then wrapped.
Keep larger items separate with a layer of stuffed paper.
Clothing
Dressers should be emptied.
Use wardrobes for hanging clothes.
Use bottoms of wardrobe boxes for shoes.
Pictures
Use a picture box and paper pads.
Place wrapped picture in box, then pad sides with paper.
Lamps
Light bulbs need to be removed as well as shades.
Put lampshade in separate box. Mark "FRAGILE".
Electronics
If possible, use original boxes. If not, pack items separately.
For easy reinstallation, label wiring with tape.
Make sure moving parts and covers are secure.
Compact disk: check instructions to secure the laser.